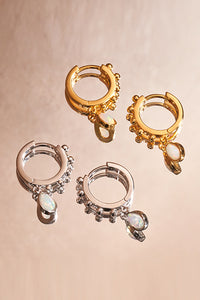 DEW Earring
Regular price $220.00 Sale
DEW earrings, a magnificent fusion of elegance and charm, are designed for those who appreciate the enchanting allure of opal. This exquisite product features a resplendent tear-cut opal gemstone that dangles effortlessly from a delicate mini hoop, creating an unmatched statement piece that will turn heads.
The mesmerizing opal in the DEW earring boasts a kaleidoscope of iridescent hues, reflecting the light in an entrancing dance of colors. This breathtaking accessory guarantees to make a lasting impression. DEW earring is not just a visually stunning masterpiece; it also symbolizes good health and balance. Revered throughout history for its mystical properties, the opal is believed to promote healing and harmony, making this earring a must-have addition to every jewelry collection.
STYLE TIP:
For an effortlessly chic and coordinated look, pair your DEW earring with the MOON necklace and BALANCE ring. This harmonious combination allows you to fully embrace the positive energy and benefits of opal.
SIZE:
Opal 6x4mm
Width 2mm
Height approx 20 mm
For any inquiries, please contact us at hello@hakthelabel.com or DM on Instagram @hakthelabel